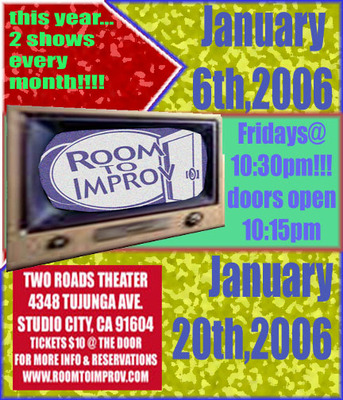 Haha… sorry for the non-updating-ness.  Different entry, same old story.  I promised myself I would blog about our first Room to Improv show… at least a little bit.
So, let me just start off by saying that friday was pretty nuts.  Dec 16th it was.  Work, Show on the Go Show, Room to Improv Show, then off to Loma Linda for some pre-Big Bear sleeping-age.
I usually don't write like this, but I'm sort of in a hurry so I'll just write it as it comes out of my head.  Check this out, kris and I had this dinner theater thing at the Spectrum Dave & Busters that started at 8:30pm.  Show ends at 9:30….we leave the spectrum at 9:40pm.
Let's just say, thanks to Josie's car and Kris' masterful mastery of the steering wheel/gas-pedal-all-the-way-to-the-floor technique, we made it to Studio City at 10:30pm… just in time to see the rest of the RTI cast lining up for their entrance.
I'm super-so-so-so glad that we made it too because geez… it was amazing.  AMAZING.
I forgot the rush, that moment on stage where all the tension builds up and you try to let it go but that just makes it stick all the more.  Not only until you set that first foot on stage does it melt away… leaving just you, your cast, and the craft.  You enter this zone, a trance, mindlessness.. and when you come to, you are welcomed back by the thunderous applause of an appreciative audience.  Well, maybe not thunderous… but hey, it's nice to dream right?
In short… damn I missed that.  I dunno how I went for so long without.
StageWhore-ing – It's my Anti-Drug.
Well, I guess the point of this entry, which is now entirely too long, was to announce this:

Hit either of us up if you wanna go… it would be appreciated very much if you came to support.  Also, it's the RtI debut of Mr. Weslei Gabrillo… wouldn't wanna miss that right?
Ok goodnight… sleep awaits, as does an early morning alarm and a dragging-my-ass-out-of-bed-for-work.