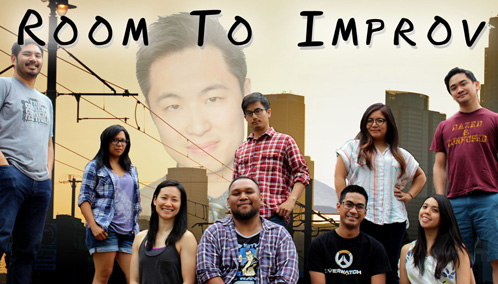 Wow. I feel like every new year just seems to go by quicker and quicker.
How've you been, everyone? I realize it's been a while since I wrote anything in here, but it's gonna be a goal to change that in the new year. For the time being, let's start with a monster update on 2017.
I have less hair. Not so much from balding, but because I had to cut it for a role – in a film I'll be talking about in a little bit. It's currently growing back, and in that weird stage where it's too long for me to just go out without looking at it, and too short for me to tie back.  So, widely accepted male hair length, I suppose. Anyway, I don't know what to do with it because I literally have had my hair long for 15 years. I am not savvy to things like hair product and how to use a comb. Speaking of that film…
LUMPIA 2
Lumpia 2 is a film I've been working on behind the scenes as an associate producer for the past few years. After a couple of successful crowdfunding campaigns, we went into production this year, on location in Daly City, CA and in Los Angeles. Lumpia 2 is a sequel to a comic book-inspired home movie shot by Patricio Ginelsa of KidHeroes fame, and slathered in the editing bay magic by AJ Calomay – Mr. Xylophone Films himself.
I'll also be playing a supporting role in the film! There's not too much we can say right now – so expect to hear more about this project when we have everything in the can and get closer to release in 2018!
Move That Body
I had the pleasure of working on a short film, Move That Body, that premiered as a short selection at the 2017 Los Angeles Philippine International Film Festival. Written by Vince Yap, directed by Rommel Andaya of RawMix Productions, DP'ed by Homer Dulu, and starring Michael Kuya, Tony Garbanzos, Jed Alcantara, and yours truly – Move That Body is a short about friendship in the face of life's everyday trials and tribulations, also there's a dead body.
Tons of fun on set with everyone. Hopefully we'll get to work on something again in the near future.
I mean check out that cast:
Things to look forward to in 2018
I made a paltry attempt at crowdfunding my idea for a storytelling webseries called My d20 Stories. It's basically gonna be stories from my life, and all the people I know about how playing Dungeons & Dragons or other Table-Top Role Playing Games figures into their lives, which each episode anchored around a particular twenty-sided die in their collection.
Despite the fact that I fell infinitely short of my goal, My d20 Stories will still definitely go into production, just without as many bells and whistles – to begin with.  I did have a few backers (thank you) so this is still absolutely happening.
I'm going to start shooting stuff come January.
This is my improv team, Room to Improv, of which I'm currently the Artistic Director. We've got a season ongoing until June, at which point we'll be taking a break for the summer. But until then – visit us at The Secret Rose Theatre in North Hollywood every First Friday of the Month. As part of our show, we're currently doing a season-long improvised serial entitled Grame of Thones – trying to fill the giant void of not having our favorite hour-long fantasy series for all of next year. We're four episodes in! Hit up the Facebook page linked above for more details
Well folks, that's it for the time being. Expect to hear more – because like I said, it's a goal to keep this feed updated for once. Hah. Feel free to hit me up on the above social media plaforms, it'd be good to hear from you.
Until then, peace and french fry grease,
-earl.