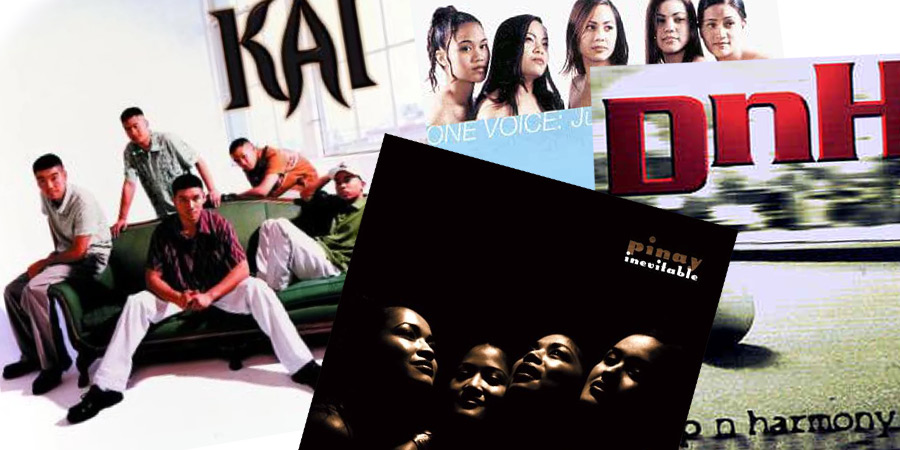 Filipino American R&B Groups of the 1990s.
So, originally this started as a post about how I found an old Soundcloud of mine that was home to a solitary music track on it. That track: I Thought She Knew – a cover of an *NSYNC song by a group called Echo Point. But y'all remember:
Kai.
One Vo1ce.
Innerlude.
Echo Point.
What, you've never heard of Echo Point?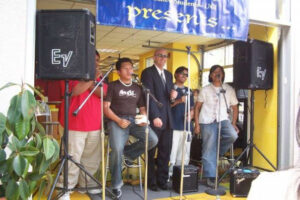 Yeah I suppose I wouldn't have either if I wasn't in it. Yup, that's right, Echo Point was a 5-person acapella group I was part of in college. You'll have to forgive me for the audio quality, it was recorded in the days before USB audio interfaces became common, Adobe Audition was called Cool Edit Pro, and we were 5 broke college students huddling around a single Radio Shack lavalier microphone connected to my Athlon 2 750MHz computer cuz my Minidisc player had stopped working.
Echo Point was my 3rd such group, as a matter of fact. Before that I was in a more boybandy-group called Group 5 (we had a really hard time coming up with a name) and even before that I was in a 3-man group in high school whose entire repertoire consisted of the Boyz II Men arrangement of Star-Spangled Banner.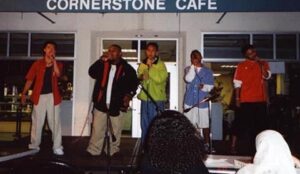 But, since it's Filipino American History Month, I figured I should share a bit about a part of Fil-Am history that played a huge part in my coming of age: 90s Fil-Am R&B
The fact of a matter is, if you grew up Filipino American on the West Coast in the 1990s, you had at least 36 or so Fil-Am friends that were in an R&B/acapella group, most of which spawned in response to the growing popularity of such groups in mainstream R&B (i.e. Boyz II Men, SWV, Shai, Jodeci, 702, Total, etc.)
Sure, you had your hobbyist and semi-serious folks that would perform on street corners, at talent shows, and at your girlfriend's short flags team's yearly banquet, but some groups managed to reach beyond that and find a bigger audience. In fact, a couple handfuls of them actually cut albums with record labels and got radio play, which is honestly mind-blowing. That was every short flag intermission performer's dream.
I should say that this is specifically about groups, so don't think I'm leaving out the Queen of Freestyle herself, Jocelyn Enriquez, FYI. Shouts.
Kai
I discovered Kai my freshman year in college when Jumar, the de facto leader of Group 5 and I sat one night trying to figure out what our very first song should be. He dropped a few other tracks, including a couple from Drop'n Harmony that night, but I knew once I heard Say You'll Stay by Kai that this would be the song that would launch our illustrious second-rate cover boyband career.
From the Wikipedia:
The group was formed when Anthony "AC" Lorenzo invited Andrew "Dru" Gapuz, Geoffrey "Geof" Lintao, Quincy "Q" Victoria and Leo Chan to perform at a San Francisco benefit concert. Following a group split, AC, Dru and Leo began working as a trio and in 1995, added Errol Viray and AC's cousin Andrey "Drey" Silva.

Originally named APEX, the group changed its name to Kai, an abbreviated version of the Tagalog word "kaibigan", which means "friend". They were signed to HB Records, a local studio and began working on an album. Their debut single, "Say You'll Stay" was released shortly after and received strong radio play. This helped them get signed by Geffen in 1997. In 1998, they released their self-titled debut album on Geffen, making them the second Filipino American recording artists to release an album on a major record label (Jocelyn Enriquez was the first, releasing Jocelyn on Tommy Boy Records in 1997). Their only charting single was the previously mentioned "Say You'll Stay" which reached #59 on the Billboard Hot 100. In that same year, they were also featured in an issue of Vibe Magazine alongside rap group The Mountain Brothers in an article promoting up-and-coming Asian American talent in the music industry.
Pinay
I found out about Pinay right around the same time as I discovered Kai, probably through the aforementioned Jumar. If I remember correctly, we were looking for songs to suggest to our counterpart girl group – who if I remember was called Essence, probably with a "z" somewhere or other misspelling to make it look cooler on paper. Essynce. Ezsynce. Something.
And come on, this acoustic version they did for their reunion tour is pretty dang legit.

From their Website:
Pinay started out in 1993 as a primarily a cappella group, bringing together the talents of four women with backgrounds in classical, pop, soul, and gospel music. (Original member, Maylene Briones, has since left the group to pursue medical school.) Initially, Pinay focused on a cappella music, building their vocal skills and the strength of their sound as well as refining the blend and interaction of their voices for three years before signing with Classified Records in 1996. Through their years of singing together, creating and promoting their debut album "Inevitable," Pinay has developed a distinctively mature, yet versatile sound.
One Vo1ce
Pretty sure I found One Vo1ce in the same manner as Pinay. Come to think of it – maybe Jumar was trying to holler at one of the women in Ezsync3. Maybe I was trying to holler at one of the women in Ezsynx3? Who knows? It was like two decades ago.
What sayeth Wikipedia:
One Voice (styled as One Vo1ce) is a Filipino-American R&B girl group that originated from Vallejo, California. The group is well-known for their 1999 single When U Think About Me.

The girls of One Voice met while they were in elementary school. They originally started out as a quintet, which at the time included Aimee Castillo (no relation to Monica), and another original member named Lindsay Mangoba, but before anything was recorded she later left the group and was replaced by Melissa Ruiz. The girls eventually landed a record deal with Kamikaze Records (an independent label) in 1998, and contracted the talent of producer James Earley.
Drop'n Harmony
Again, Drop'n Harmony was part of the conversation where Group 5 was searching for our first song to learn. And ooh boy, we came super close to covering their track Never No Never, except there's a line that goes "If you're down for DnH and you got Filipino pride, pump yo fist up in the air…" and two members of Group 5 were Vietnamese, so probably a little weird.  Also, y'all remember Jose "Sway" Penala from season 5 of American Idol? He was in DnH.
There's an acapella version of "Lift up Your Hands" that's been attributed to them since the peer-to-peer days, and that song used to be my pre-show "Calm the eff down, Earl" song when I first started acting in LA.
Simple
I discovered Simple searching the digital annals of Kazaa. I can't find too much on the group online, but here's some music:
Devotion
I found Devotion while randomly perusing the cd singles at a Sam Goody or Tower Records or something. Their song When I became the 3rd or 4th song that Group 5 attempted to learn. Unfortunately, Group 5 fizzled soon after and was swallowed up into the "bands that once were" miasma.
I don't actually know too much about Devotion except that they were based in Orange County, I think.
Innerlude
Another find from scouring the Napster/Kazaa/Limewire/Audiogalaxy P2P ocean.
Premiere
The Box, Music Videos YOU Control – was a basic cable channel that allowed people to request music videos jukebox style and charge it to your phone bill. That's where I first saw Premiere! I honestly don't know anything other than this track – but I'm sure there's someone out there that knows what's up.
This is by no means an exhaustive list – there are a bunch out there that I didn't highlight like, Ja'a, Legaci, Pure Harmony, Forte, and Cquence. Plus, there are newer groups that came about in the early-aughts that absolutely share the same musical DNA as the ones listed here – Next Phaze, 6th Day (which was kind of a gestalt supergroup) going all the way to today's folks, like Filharmonic.  I may update this over the course of the next few weeks as I remember other groups and tracks I remember jamming out to back in the day. The awesome thing is that this was definitely a very specific slice of Fil-Am history that went on to inspire another generation of artists and that's always cool, right?